Equine Pack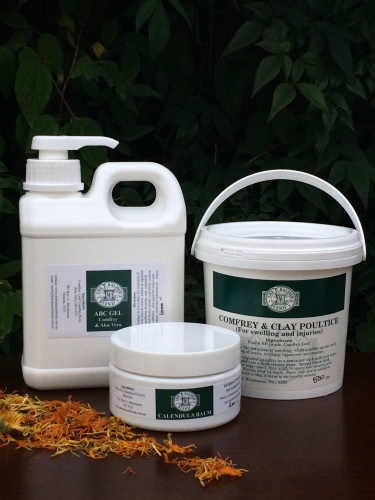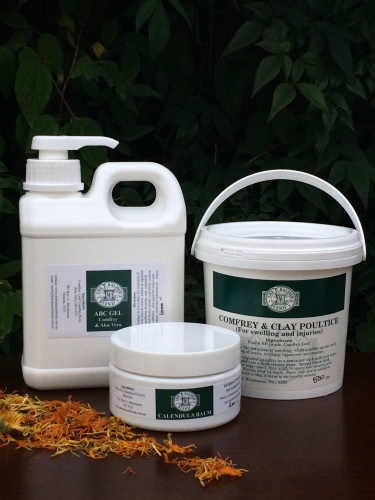 Equine Pack
What's in the pack?
1 Litre ABC Gel
500g Comfrey & Clay Poultice Powder
200gm Calendula Balm
Save over 20% when you buy a pack - RRP $116.50 AUD
ABC Gel ~ Our top seller! A healing blend of Comfrey & Aloe for the treatment of muscle tears and strains, tendon and ligament problems, bruising, cuts, cracked and broken bones, splints, scar tissue, fibrous tissue, sciatica and arthritis. The comfrey in ABC increases the rate of new cell growth, speeding repair to damaged tissue, Aloe Vera brings relief to cuts and abrasions, mild rashes and skin infections, sunburn, burns, friction burns, sores, mouth sores, fungus and scaling.
Comfrey & Clay Poultice ~ Comfrey increases the rate of new cell growth, speeding to repair damaged tissue. The allantoin in Comfrey is renowned historically for healing fractured, chipped & cracked bones, & the treatment of splints. Comfrey aids with the healing of the injury site while the clay assists in the reduction of swelling in joints or areas that have received a knock or strain.
Calendula Balm can bring relief to irritated skin caused by eczema, chaffing, sunburn, windburn, cold or dry air exposure, rope burn and so on! It assists in the healing of cuts, blisters, infected and inflamed wounds, hard-to-heal sores & dry, cracked or itchy skin.